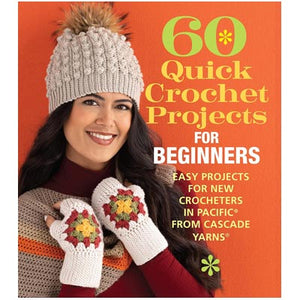 60 Quick Crochet Projects for Beginners
Regular price $20.00 Sale
(0)
Easy projects for new crocheters in worsted weight yarns.
With a thorough how-to section that includes step-by-step photography and 60 patterns that range in project type and technique, 60 Quick Crochet Projects for Beginners will help new crocheters build skills and make many useful items at the same time.
Whether you're picking up a crochet hook for the first time or are familiar with the basic crochet stitches and need something to make, 60 Quick Crochet Projects for Beginners is the perfect book for you. A thorough learn-to-crochet section instills all the core knowledge you need to get started, and an expansive collection of 60 beginner-friendly patterns provides endless hours of happy crafting. Beginner doesn't have to mean boring, so this pattern collection is accessible yet includes numerous techniques such as colorwork, bobbles, textures, and more to keep crocheters engaged and constantly developing their abilities as they stitch hats, scarves, shawls, mittens, blankets, and even garments.
Sidebars are included throughout with tips, tricks, and insight to build crafting knowledge and encourage critical thinking and creativity. With every project made in Pacific from Cascade Yarns, this superwash wool and acrylic blend comes in dozens of colors and will ensure that each project is beautiful, soft, and durable.