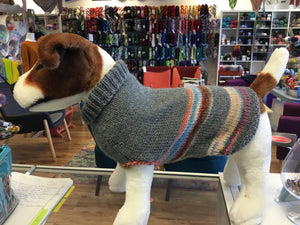 Design a Custom Dog Sweater (Online) / TBD
Regular price $25.00 Sale
(0)
Sunday, September 11, 10 to 10:30 a.m., & Monday, September 12, 1 to 2:30 p.m.
Get your dog ready for winter! In this online workshop, we will use your dog's measurements to create a custom sweater design. Prep work will require you to wrangle your dog to get several measurements.
For the first time, we are offering this as a two-session workshop. In the first session, you will learn how to knit a PROPER gauge swatch. The next day, once you've knit the swatch and (ideally) washed it, you will come back with it in hand, along with paper, a pencil, a calculator, and your mathiest brain. (Don't worry--we will help with the mathy part!) By the end of the class, you will have a pattern you can knit, and then you can go forth and knit it!
This workshop essentially teaches transferable skills for ensuring a garment will fit. (For those who have taken Knitting Garments That Fit, this workshop is a great way to put into practice what you learned there.)