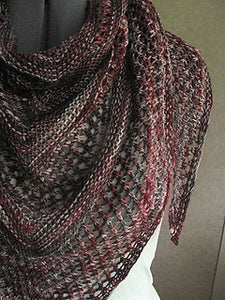 Knit Your First Shawl! (Online) / TBD
Regular price $25.00 Sale
(0)
Tuesday, July 18, 7 to 9 p.m.
Reyna is a popular and enduring shawl pattern for beginner and experienced knitters alike! There are several reasons for its popularity: it is small enough to wear under a coat, it uses just one skein of fingering weight yarn (so you can pick a special hand-dyed one!), it looks great in variegated yarn and in solid-coloured yarn, and it is not terribly difficult to knit but also not boring.
This workshop is excellent for newer knitters who have yet to try a shawl. In it, you will learn
how to read a pattern and keep track of your progress through it
how to use stitch markers 
how to knit through the back loop and SSK (the one-move version too!)
You will need one skein of fingering weight yarn and 3.5 or 3.75 mm 32" circular needles.