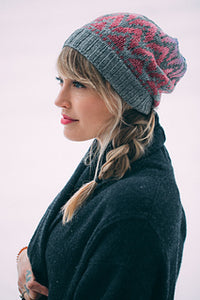 Stranded Colourwork / TBD
Regular price $35.00 Sale
(0)
Thursday, Jan. 13, 7 to 9 p.m.
If you're new to colourwork or just want a lesson to improve your colourwork technique, this class is for you! And Andrea Mowry's Flicker and Flame hat is one anyone would love to receive as a gift--or you may just decide to keep it for yourself! (There are five sizes, ranging from baby to adult, and you can knit any size you'd like.)
You will cast on and knit the ribbing before the class, and then together we will begin the colourwork pattern. You will learn:
how to catch your floats in stranded colourwork
how to knit with both hands (or hold two strands in one hand)
how to manage two balls of yarn
how to read a colourwork chart
Participants should know how to knit, purl, knit in the round, and decrease at the top of a hat.
Materials needed: 
Sport or worsted weight yarn (50 g each in two colours) 
For sport weight hat: 16" circular needles in 3.25 mm and 3.75 mm 
For worsted weight hat: 16" circular needles in 3.75 mm and 4.5 mm
Pattern price is included in workshop fee. Participants will receive pattern by email.