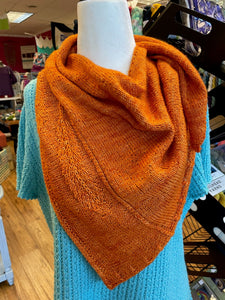 Truth and Reconciliation Shawl Kit
Regular price $30.00 Sale
(0)
This kit includes one skein of Feel Good Yarn in colourway The Secret Path (Gord Downie) plus the pattern, designed by Julie Paige-Summers. There are two shawl sizes in the pattern. The larger size will require an extra skein. If you are ordering online and you'd like two skeins, please purchase two kits and notify us by email, and we will refund the cost of the second pattern ($5) to you.
Finished dimensions of the two sizes: approximately 45" (66") wingspan, 18.5" (27") depth.  
In 2021, we contributed more than $1,800 to Nogojiwanong Friendship Centre through your generous support of our efforts to raise funds! Thank you!
For each kit sold between June 1 and 30, 2022, we will donate $10 to First Nations Child and Family Caring Society. 
(If this item is sold out, you can preorder a kit here, and we will notify you once it is ready for pickup or shipping. Note that preorders will have priority as we get restock.)